Praise the Lord!!! I would like to share alittle about my faith.
I attend Praise Temple Assembly of God in Waco, TX.
Our wonderful, spirit-filled Pastor is Rev. Duane Hoxworth. I've been
attending this church for almost 6 yrs. I recieved Christ as my savior
when I was 17; the summer before my senior year in high school. This was a
big blow to my family, who are Catholic. I have come to rely on the Lord
for every aspect of my life. This page is dedicated to my loving brothers
and sisters at Praise Temple. I would like to encourage you to submit your
prayer requests to the address below, I am committed to pray for these needs
as are my husband and friends at Praise Temple. You can remain annoynomys if
you would like. The Lord will know who you are. Thank you for visiting the
praise closet, and God Bless you!!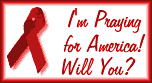 Angee
angeezhere@hotmail.com






If this guest book does not work please sign my alternate guestbook.:^D



Go Back To Angee's Place