Member of the Internet Link Exchange

Angee's Crossroads

So, now you have come to the crossroads- What's next? well if you are not sure where you will spend eternity, then you have a choice to make: Will you take the time now to accept Jesus into your heart, or will you ignore this chance and hope that you get another chance before you die. If you die and you haven't accepted Jesus into your life, you will spend eternity in Hell; If you die after you accept Jesus into our life, you will spend eternity with your heavenly Father in Heaven. Where do you want to spend eternity?



We Are Sinners

Romans 3:23- For all have sinned and fallen short of the Glory of God.
Romans 6:23- For the wages of sin is death, but the gift of God is eternal life in Christ Jesus, our Lord.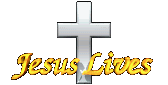 God Loves You!!

Romans 5:8- But God demonstrated His own love for us in this: While we were still sinners, Christ died for us. Jesus dieed for you. No matter how bad you think you are God still Loves you. There is nothing that you can do to make God stop loving you.John 3:16- For God so loved the world that he gave his one and only son that whoever believes in Him will not perish, but have everlasting life.




Accept Jesus

Romans 10:8-13- But what does it say?" The word is near you, it's even in your mouth and in your heart," that is , the word of faith we are proclaiming: That if you confess with your mouth, "Jesus is Lord." and believe in your heart that God raised him from the dead, you will be saved. For it is with your heart that you believe and are justified, and it is with your mouth that you confess and are saved. As the scripture says," Anyone who trusts in Him willl never be put to shame." For there is no difference between Jew and Gentile- the same Lord is Lord of all and richly blesses all who call on Him, for,"Every one who calls on the name of the Lord will be saved."




Pray for Phil.

Prayer for Salvation
If you believe what you have read and are ready to accept Jesus into your heart, Pray this prayer with me and ask Jesus into your heart.

Dear Heavenly Father, I know I am a sinner. Forgive me for my sins, Lord. Come into my heart, Lord and make me whole. You are Lord of my life. I believe that you died for me and that you were raised from the dead. I belive that if I confess with my mouth and believe with my heart that You are Lord, I will be saved. Thank you Lord for forgining me of my sins. Thank you Lord for saving my soul and writing my name in the Lamb's book of life, so that I may have eternal life with you in Heaven. Thank you Lord for coming into my heart today. Amen.




That's It!!!

Well, that's it. And it didn't hurt a bit. There are a few things I would like you to do for me now:
1. E-mail me so that I may pray for you.
2. Find a church near your home and go this Sunday. Tell the minister that you have recently accepted Jesus into your heart.
3. Pray every day. It soesn't have to be a long prayer or anything. Just talk to God the way you would talk to a friend.
4. Read the Bible. If you don't have a Bible , get one. I'd suggest the New International Version Bible because it is easy to read. For a new Christian, I would suggest starting in Romans or John, both give you a good foundation to build on.
5. Don't give up. You are a new ceation in Christ, that does not mean that yu will not have trouble. But Jesus is there wven during your troubles. You will not be alone.




Angee
If you have any questions or would like to talk. E mail me. May God bless you and keep you safe always.


angeezhere@hotmail.com




All scriptures were quoted from the New International Version.


You are new friend number

Since January 6, 1997.


[Angee's Friends Cafe]
[Angee's Praise Page]
[Angee's Halleluja Hall!]
[Angee's Crossroads]
[Angee's Humor Room]
[Angee's Trophy Room]
[Angee's Award of Excellence]
[Angee's Winner's Circle]
[Angee's Photo Album]
[Angee's Broom Closet]